HDMI Switch – An Insider's Guide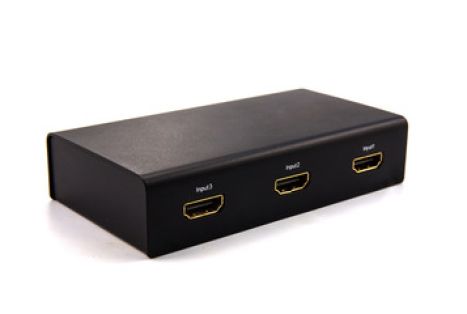 Today, it is quite common to have multiple HDMI devices in our home. HDTV's have limited HDMI inputs and it can be bothersome to unplug and connect HDMI devices when needed. This is where HDMI switch comes into the picture.
If you are looking to add an HDMI switch to your home entertainment setup, the insider guide would provide you important information to purchase best HDMI switch.
What Is an HDMI Switch?
An HDMI switch is a device with multiple HDMI inputs and one HDMI output. It means you can connect HDMI devices like PlayStation, Projector, Blu-ray player, Skybox, Apple TV to your HDTV through one HDMI port.
There are different types of HDMI switches; 2X1, 5X1, and many more configurations. The 2X1 HDMI switch has 2 HDMI inputs and one HDMI output. It means you can connect 2 HDMI devices to the switch and enjoy HD content from any device with the flip of a switch on the remote control. If you have more than 2 HDMI devices, you will need a larger HDMI switch like the 5X1 which has 5 HDMI inputs and one HDMI output.
Which Features Are Important in HDMI Switch?
HDCP Compliant
Today leading broadcasters and movie production houses use HDCP to prevent piracy. HDCP stands for High Definition Copy Protection that prevents copying of digital signals (audio and video) when passing through connections. If you want to enjoy content protected by HDCP, you will need an HDMI switch that is compatible with HDCP.
You need to look for features like HDCP pass-through in the device. Features like HDCP pass-through will ensure the content that is passed to the HDTV is in original format and there is no loss of quality in signals. Also, you need to be aware of the HDCP compatibility issues that may arise. In simple words, your HDMI devices like Blu-ray player, HDMI switch and the TV should support same HDCP version.
Since the latest HDCP versions are not backward compatible, you need to be cautious about the HDCP version supported by your HDMI devices and TV when selecting the HDMI switch. For example, the HDCP 2.2 may not support content encrypted in HDCP 1.x.
Supported Resolutions
Most HDMI switches in the market support resolutions up to 1080p. If you are having a 4k display or intend to buy one, you need to look for HDMI switch that supports 4K displays. You need to remember that 4K content is embedded in latest HDCP protocol and many HDMI switches do not support HDCP 2.0 and above that is necessary to watch 4K content.
Design Consideration of HDMI Switch
Power Source for the HDMI Switch
Not all HDMI switches have an external adapter to draw power. Some HDMI switches draw power from the HDMI ports of connected devices. This design approach is problematic as HDMI ports on devices are not designed to transfer power to other devices.
Many HDMI switch manufacturers use the internal power source option to cut down costs. Often these devices draw from multiple HDMI ports to function efficiently. If few connected HDMI devices are On, the switch may not function efficiently. Also in such cases, you will be required to keep the unwanted HDMI devices powered on just to provide power to HDMI switch. You need to look for an HDMI switch that has an external power adapter and draws power from the mains/wall socket.
Minimum Cross-Talk
An HDMI switch has multiple inputs and one output active most of the times. In such scenario, there is a risk of signal leak and cross-talk that can affect the output signal sent to HDTV. It is imperative the HDMI switch you consider has the technology that avoids interference with signals and ensures the desired channel is not interfered by undesired channels.
Minimum Insertion Loss
The HDMI interface supports high-speed transmission of signals equivalent to 5 Gigabits/ per second through a single connector. A good HDMI switch will have careful RF and Microwave layout techniques to minimize insertion loss. The Open Eye Pattern test can tell you a lot about the signal integrity and insertion loss at HDMI connectors.
The above tips and information can help you select right HDMI switch or 4K HDMI splitter that will provide good value for money. Don't fall into the trap of buying HDMI switch that mentions fancy features. You need to buy an HDMI switch that will work well with your HDMI devices.