Services Offered by Wire Harness Manufacturers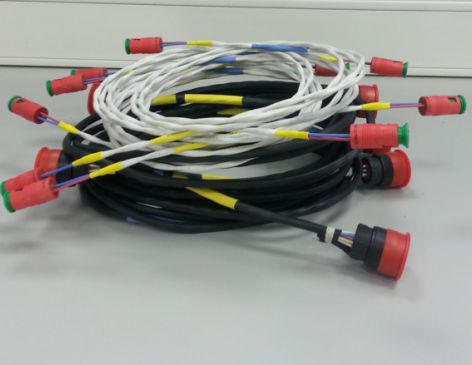 Wire harness manufacturers possess the expertise and the engineering capabilities with the ability to integrate designs into computers, and other advanced technologies. They offer wire harness services in a wide variety of applications and industries including computer wire harness, medical equipment cable harness, control cable wire harness, wire harness for cables used in power transmission and data transfers, etc.
Wire harness manufacturers use almost the same process as used in cable harness, except that wire harness requires more breakouts.  The process remains the same, cutting the cables depend on the number of cables, and the length required; for small number of cables manual process would be sufficient, but if the harness requires cutting more cables automated process will be required.  When working with the machine operators feed the required length of the cable into the machine, and double checks to make sure that the machine cuts the cable on the required exact length.
Wire harness manufacturers set up a detailed plan before they start building the actual harness, a typical wire harness process involves:
•  Analysis of the requirements, and designing a rapid prototype of the electrical system that fits the requirements.
•  Designs a system depicting the data flow in the electrical system.
•  Automates the entire process, minimizes manual work, at the same time maintains data integrity.
•  Offers integration with latest tools, and applications such as Computers, CAD, etc.
Wire harness manufacturers follow quality practices and procedures in designing and developing the harness system to deliver quality product that is not only safe and secure but saves resources such as space, time, etc. Some of the advantages offered by wire harness manufacturers are:
•  Savings in time: With wire harness, the time required for installation is considerably less, as there is only one unit of cable for installation, as against installing multiple cables. In addition, in case of any malfunction, instead of checking multiple cables, inspecting one harness will reveal errors, if any. Finding errors, fixing them in harness system is easy.
•  Quality Spares, Raw Materials: Harness manufacturers use hi quality cables, connectors, staples, etc. to ensure harness system is highly efficient and offers high production. The quality of material used will have an impact on the efficiency and the production, hence harness manufacturers use high quality raw materials.
•  High efficiency: Harness systems developed by quality manufacturers using quality raw materials have less scope of failures. The systems developed rarely fail, and offer uninterrupted services resulting in high productivity, and savings. It also results avoiding of unnecessary expenditure on repairs, etc.
Wire harness manufacturers offer many other value added services that include customized jacketing, sheath, insulating, etc. in addition to providing support with installation and other technical support, as required.