Use a Cat5/Cat5e/Cat6 HDMI Extender to Reduce Device Clutter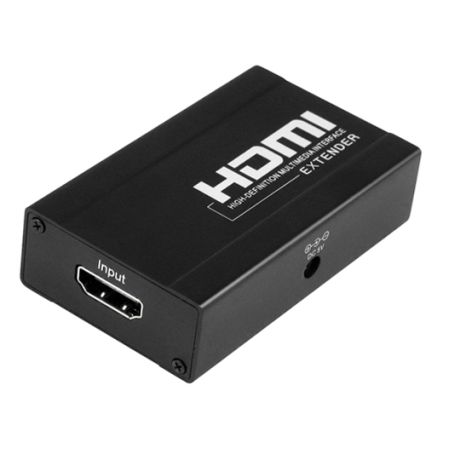 As technology gets more advanced, we can see prices drop and HDMI devices becoming more affordable. The result is several HDMI devices are entering our home and we can see digital displays on every table and corner of our house. This has led to device clutter around the house as technical limitations of HDMI cables require us to place the digital display and HDMI source together. The solution to this problem is using HDMI extender over Cat5.
Let's learn about HDMI Extender in more detail and see how it helps in reducing device clutter.
What is HDMI Extender over Cat5?
HDMI Extender is a set of two devices used to transmit HDMI signals over Ethernet cable. The two units in the HDMI Extender are – Receiver and transmitter. The Transmitter unit takes in the AV signal from the HDMI source and transmits it over Cat cable. It has an HDMI input port and an RJ45 output port. The Receiver unit receives the AV signal through the RJ45 port and routes the signal to the HDMI output port which connects to a digital display.
How HDMI Extender Helps in Reducing Device Clutter?
The home entertainment market has expanded in recent years and the shift has been primarily from analog to digital. Many HD devices use HDMI cables to connect to digital displays. However, there are many drawbacks when using HDMI cables. Here are some reasons that show HDMI Extender over Ethernet is the right solution for connecting HD devices.
Ideal for Long Distance
Once rooted in family rooms or living room, the television has moved into our kitchen, bedroom, and even the bathroom.  This scenario demands a cable network that runs around the house and can reach TVs installed in different rooms.
HDMI cables are not recommended to stream signals over long distances due to degradation of signal. According to experts, HDMI cables have a reliable limit of 50 meters. Also, it is hard to find HDMI cables measuring 50 feet or more. Unlike HDMI cables, HDMI Extender over Cat5 cables can extend up to the length of 329 feet which is far more than HDMI cables.
Easy to Terminate
It is difficult to terminate HDMI cables and make new connections. The HDMI cables have around nineteen pins and it is difficult to fix HDMI connectors in the right manner. On the other hand, Cat5 and Cat6 are inexpensive and easy to terminate. The tools required to fix RJ45 connectors on the terminated end of Cat cables is easy as crimping tools are easily available.
Pre-installed Cat5 Network
Many homes come with with Cat cables integrated and all you need is an HDMI Extender over Cat5 to use that available wired network in homes. With HDMI extender installed, you can easily route the HDMI signals to any HDTV in any room in the house and the HDMI source can be also placed far away from the TV.
The above-mentioned factors help to reduce device clutter in your home and you can place all HDMI sources at one place without worrying about HDMI cable limitations.
Important Features of HDMI Extenders
Support for 4K Resolution
Besides transmitting the AV signal over Cat cable, the HDMI Extender over Ethernet also supports computer resolutions up to 4K.
HDCP Compliant
HDMI Extenders also support HDCP which ensures the encoded content is safely carried over Cat cable and you do not miss any HDCP protected content due to compliance issues.
Other Places Where HDMI Extenders Prove Useful
It is not only home or offices where the HDMI extender proves useful. There are several places where the AV signal needs to be distributed over larger areas such as university campuses, large facilities, high rise buildings, airports, and many more places.
Today Television has become a more individualized form of entertainment and there is nothing wrong to watch programs in our room. The HDMI Extender over Cat5 is a perfect solution for our changing TV watching habits The HDMI extender works perfectly well to keep the HDMI sources out of view and giving us the option to hook TVs to a place that matches our needs.
Do you agree HDMI Extender has helped in reducing device clutter? Please feel free to comment.